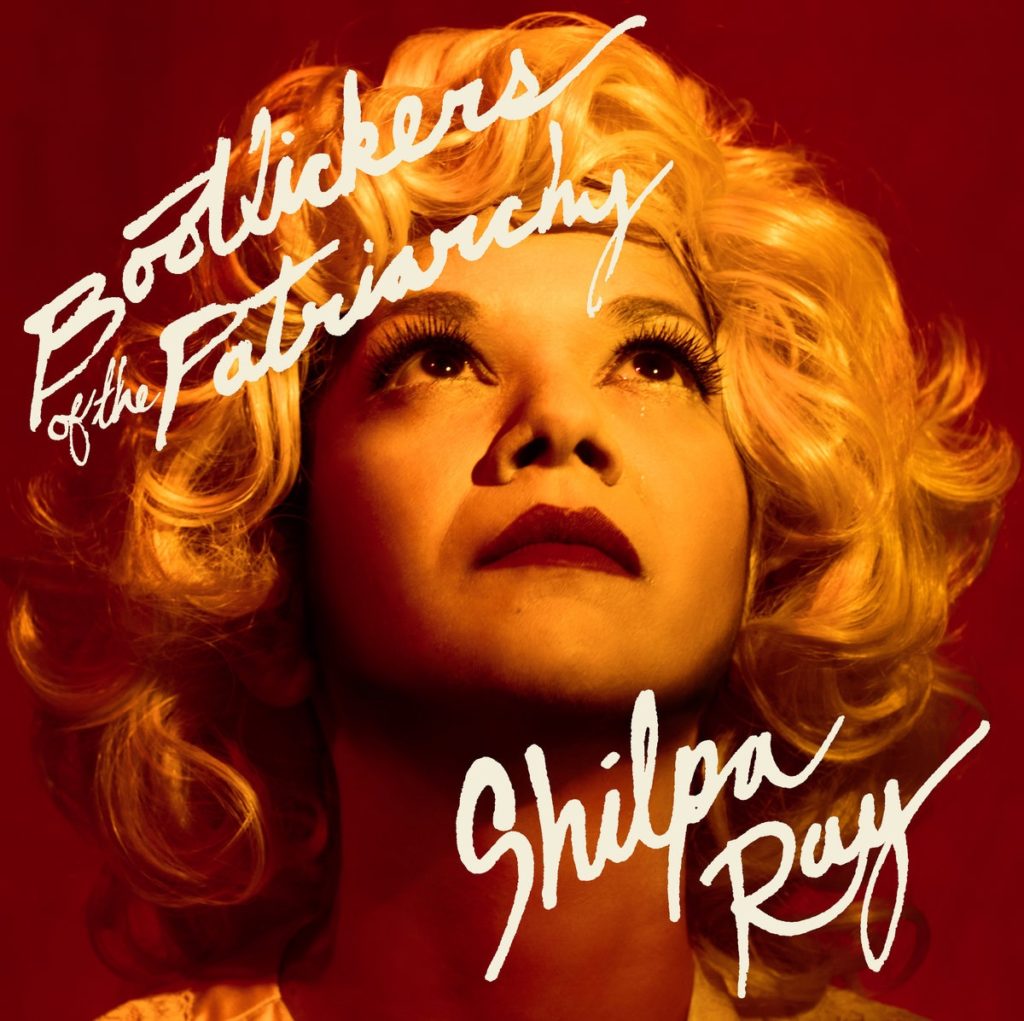 Review originally published 11.28.21 on Full Time Aesthetic.
New York-based artist Shilpa Ray has just released a timely must-listen with "Bootlickers of the Patriarchy," a 2-song single featuring the title track as well as a remarkable cover of Ministry's "Effigy (I'm Not An)."
The beauty of Ray's work lies in her ability to make straightforward music with striking social commentary and serious staying power. Ray wrote the title track specifically in reference to Senator Susan Collins and how she chose to benefit from the exploitation of other women. From her Bandcamp page, Ray explains: "Bootlickers of the Patriarchy' was written about Senator Susan Collins and her infamous press conference after the Kavanaugh/Blasey Ford hearings. It's about women who succeed from undermining the success of other women or choose to gain success from exploiting the oppression of other women. This is a character who has taken many forms throughout history, the kind of woman who seems perfectly content playing Gamma to the Alpha male. "Bootlicker" is my direct challenge to the notion of "women supporting other women," and the falsehoods and unrealistic expectations that comes with a statement like that."
The song starts out with a slow, soulful, and almost dreamy sentiment. Opening with the lyrics "Bootlicker Bootlicker/Bootlicker Bootlicker/I see you looking cute/with that life vest on," Ray cuts straight to the point of criticizing her subject in an enamoring fashion. Her voice is strong and melodic, akin to the kind of vocalist you would hear belting her heart out in a jazz club. But Ray clearly has a lot of asses to kick and in "Bootlickers of the Patriarchy," she uses her musical ingenuity to create a song that is both catchy and gets a searing message across. While the song starts out at a slower pace, it switches gears into a fast, 80s inspired electro-rock track halfway through with every lyric from the first half being repeated in a more urgent fashion before ending with a variation of lyrical repetitions and leaving the listener feeling just as outraged and disappointed as she is. "You think you can sell solidarity? Bitch, don't patronize me/You held a press conference the day/you sold your sisters out."As the singular vocalist on the track, Ray also needs no backing vocals to aid in the song's composition or add to its effect.
Additionally, it is worth noting that "Bootlickers of the Patriarchy" is written in a way that avoids falling into a pit of cheesy political commentary. Ray is no stranger to incorporating current events and cultural signifiers into her work, as these are the pillars of her past releases.
Shilpa Ray performing (photo by Kate Hoos)
On the B side of "Bootlickers of the Patriarchy," is a cover of Ministry's "Effigy (I'm Not An)," which Ray rewrites as "I'm Not an Effigy." The track is considerably less poppy than the original recording but is restyled in a manner that greatly complements the preceding single. Subject-wise, it's fitting as the B-side to the single as it explores the topic of bodily autonomy with lyrics such as "You are the only person I know/I get you round to people who are on the go/Well you took me to a picture show/And what's the first thing that I see/Them burning pictures of me head to toe, hey!" Ray's voice is fitting for the cover, as she stretches her inflections and gets the message of the song across meaningfully and effectively and could very well be mistaken for an original if the listener were not familiar with Ministry's work. The cover is also the first official recording with Ray on guitar, as she strums a variety of notes coinciding with additional vocals, screaming, and bass from Flossing's Heather Elle. Brooklyn-based engineer Jeff Berner also contributed on the bass synth, tambourine, and Moog.
On choosing this song Ray elaborated: "Well, why not do a cover of your influences as a B-side? I was obsessed w/ the Ministry album 'With Sympathy' when writing tracks for my upcoming album. It is the record Al Jourgenson has stated multiple times that he's ashamed of most, which is saying a lot considering this man's autobiography. I teamed up with my friend Heather Elle of Flossing, formerly of post punk bands Bodega and The Wants for this collaboration. It's my first official recorded track where I'm playing guitar, so as the saying goes, it's never too late to pick up a new instrument and get totally lost in it."
On the single's cover is Ray, styled in a blonde wig with a contemplative expression, looking straight up as she dons dark red lipstick with her teeth not showing and her eyes affixed to the space above her, wearing visible mascara and light eyeliner. Tonally, she is tinted yellow against a red background, symbolizing or perhaps signifying how little things have changed over the course of the past several decades as there is a serious 50's vibe going on with the aesthetic. And Ray, made up like a movie star, is ready to deliver the performance of her life, except just calling it a performance would be a great disservice—Ray is actually ready to kick some serious patriarchal ass.
If "Bootlickers of the Patriarchy" turns out to be part of a larger body of work from Ray, then it should be considered highly anticipated. Ray is really good at creating songs that are not only relevant but incredibly catchy and original. In 2021, her work is just as necessary as ever while still managing to encompass a sound that spans previous decades. Shilpa Ray is a force to be reckoned with and we're lucky to be along for the ride.
Find Shilpa Ray on:
Instagram, Twitter, Facebook, YouTube
"Bootlickers of the Patriarchy" is out now on all streaming platforms via Northern Spy Records. The single is also available as a 7inch vinyl single pre-order (though due to the ongoing vinyl shortage, the records will not ship until August 2022).